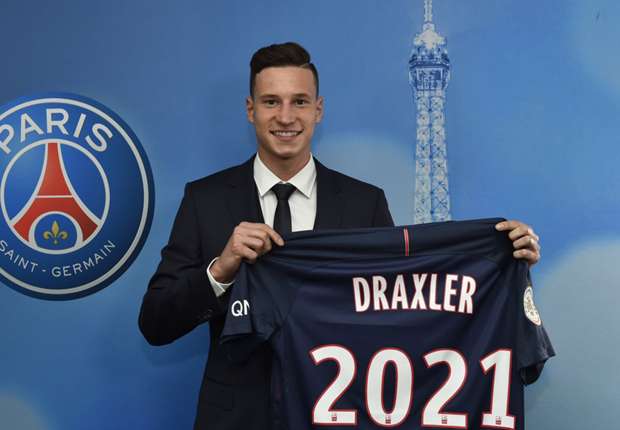 The Germany international has been on the cusp of a move to the French capital for some time and has officially joined after signing a deal until 2021
Julian Draxler's €35 million (£30m) move to Paris Saint-Germain from Wolfsburg has been finalised, with the winger signing a deal until 2021.
The Bundesliga club confirmed last month that the Germany international was due to complete a switch, with the Ligue 1 champions formally announcing the deal on Tuesday.
Draxler, who will earn a salary of €9m, joined Wolfsburg from Schalke in 2015 and has a combined 153 league appearances for the two clubs.
"It is with great joy and great anticipation that I join Paris Saint-Germain," the winger told PSG's official website.
"For the first time in my career, I am going to discover a new country, a new championship and I am very proud to live this new stage in a club which has become a reference in Europe, which has recruited many very great players.
"I intend to help Paris Saint-Germain win new titles and continue to grow internationally."
PSG have paid €35m up front for Draxler and will pay €10m in bonuses to Wolfsburg.
President Nasser Al-Khelaifi added: "I am delighted to welcome Julian Draxler into the family of
Paris Saint-Germain.
"The signature of this coveted German international reaffirms the strong power of attraction of the club to the players of great talent.